Nykki Dechellis and her staff at Fashion U Turn are recognized as the Pelham Welland Chamber of Commerce October Business of the Month award winner. Nykki has created a hotspot in downtown Fonthill where women can find fashion for both themselves or as gifts for others. With the recent expansion, that included home décor, foot ware and purses there is plenty of opportunity to support this local business. Award sponsor, Gail Belchior of Financial Divorce Solutions welcomes the opportunity to present the award to Nykki and says she, "Looks forward to a doing a little 'retail therapy' at these stores very soon."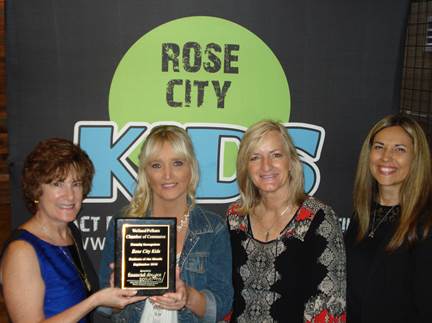 I am so pleased that Financial Divorce Solutions is able to award Rose City Kids the September Business of the Month award. In recognition of the great investments they have made to downtown Welland and the future success of so many Welland children and young adults. Having personally participated in several of the fundraising activities hosted by Rose City Kids and seeing first-hand the programs offered I'm encouraged by their positive Christian caring approach. Congratulations on your success and this award.

Financial Divorce Solutions, congratulates GAINTFM and COUNTRY89 for being selected the Welland Pelham Chamber of Commerce business of the month for August. Our communities need strong local media connections and this is one of the benefits of listening to these two local radio stations. The management and crew at GAINTFM and COUNTRY89 are committed to supporting local events and charities and we see them everywhere across Niagara.
Congratulations to Christine Raby of AAPEX Driving for being awarded the Welland/Pelham Chamber of Commerce Business of the Month for July, sponsored by Financial Divorce Solutions. Serving Pelham and Welland, in addition to other Niagara Region cities, AAPEX has been in business for 28 years. Christine Raby is an amazing entrepreneur who has strategically grown her business and is making driving safer for all. As a fellow woman in business I commend her on her vision and business success.
Business growth at the local level brings with it a great deal of pride and community spirit. It is with great pleasure I'm able to award the Welland Pelham Chamber of Commerce Business of the Month award to Mike Konderka of Enviro-Niagara. Through their relocation and expansion Mike and his dedicated team are helping to build a stronger local community. Congratulations to Mike and his team on receiving this award.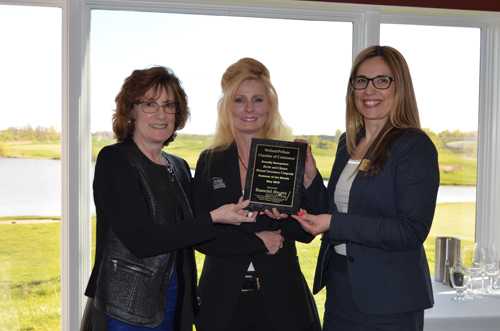 Through the Pelham-Welland Chamber of Commerce, Financial Divorce Solutions, is pleased to recognize Racheal Siciliano, Bertie & Clinton Mutual Insurance Company, as the May Business of the Month. Outgrowing the current location in Pelham, and relocating in Welland, keeps this thriving local business close to it clients and shows their commitment to investing locally. Congratulation on winning this award.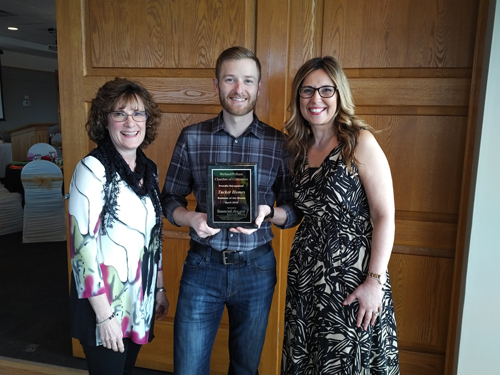 The Welland Pelham Chamber of Commerce Business of the Month award winner for April 2016 is Tucker Homes. Pictured here is Gail Belchior, Financial Divorce Solutions, Business of the Month Award sponsor, David Tucker and Dolores Fabiano, Chamber Executive Director.
"I'm delighted to present the award to David Tucker of Tucker Homes. The company has worked hard through rebranding and focusing itself as a leader in luxury home construction. The community is taking notice of both their residential and commercial projects. Congratulations to Tucker Homes and all their staff and skilled tradesmen."
Delicious food, great service and a wonderful location are all reasons why I've enjoyed eating at the Urban. So I'm not surprised that the Pelham Welland Chamber of Commerce selected Cindy of the Urban as this month's Business Award winner. Whether it's been for a business function, family celebration dinner, or a lunch meeting with one of my professional colleagues I've never been disappointed. Congratulations to the Urban Steakhouse and Lounge owner Cindy and to her outstanding staff.
It was a pleasure to award the February Business of the Month to Habitat for Humanity Niagara Restore yesterday. The positive vibe within the store, among the staff and management, is uplifting and this award recognition is well deserved. I love hearing business success stories that model a win-win solution. There's no better way to help those in need, the community-at-large and the not-for-profit organization then the business model shown by Habitat for Humanity. Congratulations!
I'm thrilled to be the Welland/Pelham Chamber of Commerce Business of the Month sponsor. Giving recognition and acknowledgement to our local business owners is something we can all do by providing referrals, shopping local and saying, "Thank You" for doing a great job and supporting our communities. Taking the step-up to be the Business of the Month sponsor is my way of showing commitment to the Chamber, and its members, and giving a HI-FIVE to my fellow business owners. I look forward to hearing all the great success stories from those recognized by the Chamber for the award.